A resident at John Adams House receives food as part of the building's aid program. Photo: Kent M. Wilhelm
In October 1977, Keith Jackson, a sports reporter for ABC News, told the world what the Bronx had known for almost a decade – New York City had abandoned them.
Jackson, who was announcing the second game of the World Series that year, noted from the press box at Yankee Stadium a large structure fire burning in South Bronx.
Without ever saying it directly, Jackson crafted the living metaphor of a burning South Bronx, a symbol of how a shattered local economy and an incoherent leadership strategy at every level of government left residents to fend for themselves.
Nearly 50 years later, the South Bronx faces a very similar crisis during COVID-19.
Just prior to the pandemic, the South Bronx was growing rapidly. Commercial avenues at The Hub, Southern Boulevard and along Third Avenue were bustling, construction cranes dotted the horizon and unemployment stood at 5.7 percent. 
The biggest concern for many long-time residents was that all the new luxury apartment complexes being built would raise rents so high, they could get pushed out.
But the novel coronavirus poses a challenge that could set back much of that hard-fought progress.
Bronx residents have contracted the virus at the highest rates in the city and have suffered more deaths, per capita, than any other borough.  Locally owned businesses that form the South Bronx's economic backbone have been shuttered by stay-in-place orders, prompting thousands of job losses.
As the city is cleaved into two camps of "essential" and "non-essential" workers, the economic realities of the South Bronx become clear. Workers who remain in "essential" jobs that have kept the rest of the city running — delivery workers, grocery store clerks, subway cleaners, bus drivers, security guards, hospital staffers — face health perils daily.  They have persevered to save their jobs, feed their families and serve their communities.
This, despite the fact that one-quarter of South Bronx residents have no health insurance and one-sixth go without medical care. Bronx residents suffer from high levels of asthma, obesity, diabetes, and heart disease, pre-existing conditions that put them at high vulnerability to COVID.  City health reports show that black and brown New Yorkers have succumbed at much higher rates than others; 73 percent of South Bronx residents are Hispanic, and 24 percent are black, according to city data.
COVID-19 has laid bare the inequalities that have persisted through the 50 years since Jackson's announcement, as governments at all levels failed to provide sufficient resources or the will to address many of the borough's distinctive problems – and sometimes have exacerbated them.
But South Bronx businesses, nonprofits, civic groups and individuals are stepping into the breach to help their neighborhoods survive.  Some are veterans of those long-ago battles while others are following their example.
As bread lines form around city blocks for the first time since the Great Depression, organizers like Sonia Taylor at Diego Beekman Mutual Housing, a veteran of the borough's up-by-the-bootstraps efforts in the 1970s and 1980s, are stepping up to provide relief today.
When the virus hit, Taylor diverted her energies from fighting a new jail planned for Mott Haven to distributing food at local church pantries. Volunteers have been outfitted in protective equipment provided not by the city, but by St. Mary's Church on 147th Street.
In addition to thousands of other Bronxites leaping into action on their own, a group of local business owners, nonprofits, politicians and donors has teamed up to raise $10 million for a new Bronx Community Relief Effort.  They hope their collaboration will extend well beyond the virus.
Acknowledging everyone on the front lines would take volumes.  We hope this sampling will provide a glimpse into the breadth of neighborhood networks and individuals working to hold the South Bronx together, even as essential workers who live there are keeping New York City going in its time of need.
They are all Bronx heroes.
Justin Mashia
Bronx Sole Founder
This was the first time that somebody had donated to the night staff, so it really just lifted everybody's spirits. 
Local Bronx man starts a fundraiser, delivers pizzas to hospitals
by Kelsie Sandoval
In the midst of the coronavirus crisis, Justin Mashia, 39, found himself with extra time and the will to help. Mashia, founder of the running and walking group, Bronx Sole, noticed businesses were closed… read more
Rosa Garcia
Mott Haven Bar Owner
It's been really fulfilling to help during this time, and give back to the Bronx.
Amidst COVID-19, Rosa Garcia Keeps Mott Haven Bar Open to Help the Community
by Yasmine Chisolm
While restaurants across the Bronx are closed due to COVID-19, Rosa Garcia, owner of the Mott Haven Bar, has a team of people helping her prepare over 400 free meals daily that get delivered to … read more
Genesis Mejia
Carolyn McLaughlin Community Center
She works countless hours to make sure this gets done. I'm very proud of her. She's a young person who's always willing to do more.
Food Pantry Worker Feeds Her Community on the Front Lines
by Jesse Vad
As the COVID-19 crisis continues to strain New Yorkers' access to food, Genesis Mejia is working in the South Bronx to make sure the families in her neighborhood are still eating. Mejia, 28, food pantry coordinator…read more
Alfredo Angueira
Beatstro/ Bricks & Hops / Bronx Draft House
My family had to struggle for many years. I think that is more of a drive to want to help and give back.
Restaurant owner gives out meals to first responders and members of the community
by Kelsie Sandoval
When NYC restaurants were ordered to close in March, Alfredo Angueira's Bronx restaurants had excess food which he decided to donate to first responders. Since then, his businesses have helped provide… read more 
Francisco Marte
Bodega and Small Business Association of New York Founder
Now we are proving how important small businesses are. When things happen, we stay and risk our lives to help keep the city running. That is why we need the bill to protect us.
Francisco Marte Fights to Keep Store Owners and Residents Safe
by Fiifi Frimpong
Francisco Marte owned his first Bronx bodega in the early 1990s when he was only 19-years-old. He remembers going through uncertainty of how his shop would survive after big companies started… read more  
David Rodriguez
United Hispanic Construction Workers Coalition
You ever heard of 'the struggle continues'? That's all us minorities, and the best part of my work is the fact that I help these people feed their family.
Finding Construction Jobs in a Pandemic
by Ambar Castillo
Early one Friday morning in the time of coronavirus, David Rodriguez was swamped. He'd opened the office at 843 Dawson Street just after dawn, waited for any of the men to show up seeking work… read more
Ariadna Phillips
South Bronx Mutual Aid / Frontline Strong Relief / Areté Education
Ariadna is a force of nature; she's someone who does not wait for authorities to respond or the government to respond. She does it herself.
The A Train
by Kent M. Wilhelm
Mirelle Phillips has called her sister Ariadna "The A Train" for her entire life. "Whenever there's something that comes up, especially in a moment like this, she shows up in every single way she possibly can… read more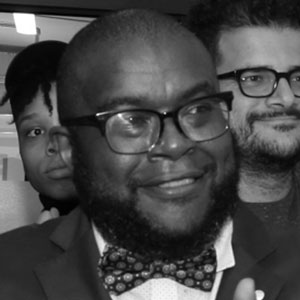 Sean Coleman
Destination Tomorrow
Sean drained his own 401K to make it happen, he would do whatever he had to in order to create Destination Tomorrow. Everything he's done, he's had to fight to get.
Amid COVID Pandemic, Advocates Say LGBT Issues are Being Unheard by Officials
by Parker Quinlan
Since the beginning of the novel Coronavirus pandemic, Sean Coleman has been terrified about losing cell phone service. Coleman is not worried about his own phone service being disconnected, but …read more
Ramona Ferreyra
Mitchel Houses Organizer
I felt that I had to get them in masks and make sure that they understood in the beginning, especially before the city shut down, that they were vulnerable and exposed.
Looking out for Mitchel Houses' seniors
by Danielle Cruz
When Coronavirus cases started cropping up in New York, Ramona Ferreyra knew she had to do something to help keep those in her community safe. Ferreyra, 39, who is currently quarantining with her grandmother… read more
Marty Rogers
Neighborhood Advisory Community Garden
Everyone that comes through the garden is like family. The space is a safe haven for those who want to get their minds off what's going on.
Lifelong Bronxite Brings Residents Together With Community Garden
by Cheyenne R. Ubiera
The coronavirus didn't compel him to help the community — he's been doing that all his life. Marty Rogers, 65, is a proud Bronx native who has lived all of his life in Melrose. He's spent the majority of his life… read more
Pastor Reggie Stutzman
Prodigal Center
When you hear people crying as they get their food, when you hear the gratitude of people, it accentuates that this is why we are here.
Prodigal Center Lending Helping Hands in Hunts Point
by Ariel Pacheco
Every Tuesday begins the same way for Pastor Reggie Stutzman. He arrives at the Prodigal Center in Hunts Point at 9 a.m, two hours before they are set to open. On one particular Tuesday he arrived to find… read more
Aid at Adams House
Photos by Kent M. Wilhelm
The John Adams House Tenant Association, lead by Ronald Topping, distributes masks, food and hand sanitizer to residents. 
Reporters
Ambar Castillo
Yasmine Chisolm
Danielle Cruz
Fiifi Frimpong
Ariel Pacheco
Parker Quinlan
Ryan Songalia
Kelsie Sandoval
Cheyenne Ubiera
Jesse Vad
Kent M. Wilhelm
Faculty Advisers
Judith Watson
Amy Yensi
Joe Hirsch
Christine McKenna