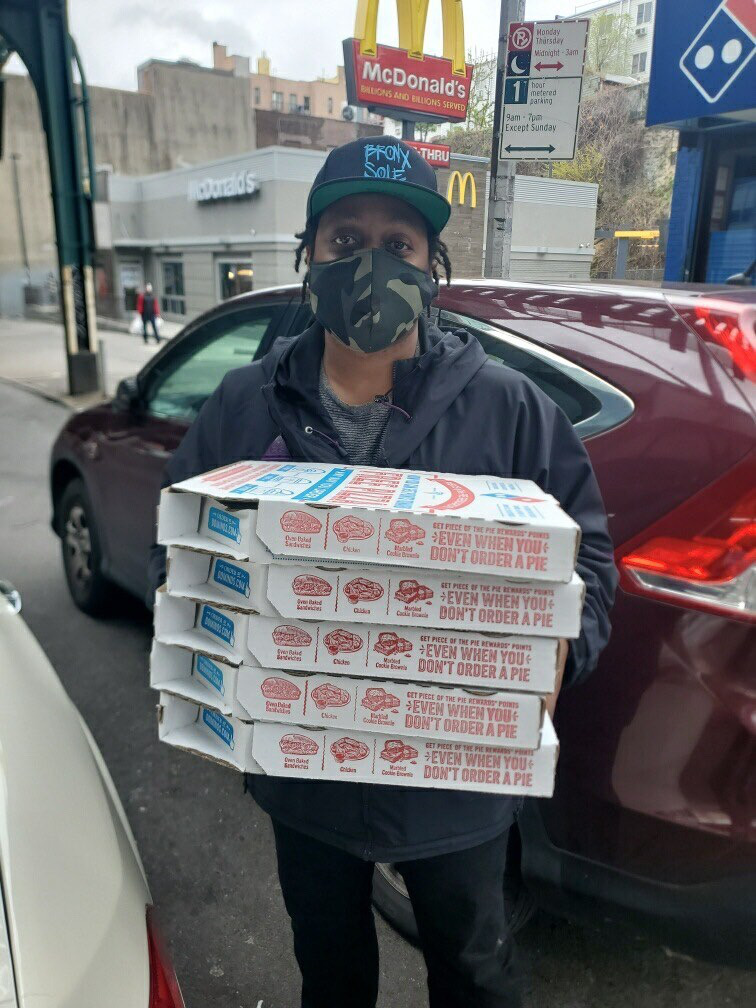 Local Bronx man starts a fundraiser, delivers pizzas to hospitals
By Kelsie Sandoval
In the midst of the coronavirus crisis, Justin Mashia, 39, found himself with extra time and the will to help.
Mashia, founder of the running and walking group, Bronx Sole, noticed businesses were closed and assumed patients bombarded hospital workers as the Bronx was one of the boroughs disproportionately affected by COVID-19. Putting two and two together, Mashia realized hospital employees would need food. "So, these people are working, businesses are closed, where are they eating? Where are they getting food?" he said.
Motivated by a concrete idea to help people, the Bronx Sole organized a fundraiser to buy 10 pizzas for hospital workers at all of the hospitals in the Bronx. Those interested in donating simply had to email or direct message Mashia on Instagram. They aimed to raise $1,500 and have received over $1,700 so far. 
Nadeshda Recinos, a nurse at Lincoln Hospital, was on the receiving end of Mashia's efforts. The staff was grateful for the warm, Domino's pizza, according to Recinos. "This was the first time that somebody had donated to the night staff, so it really just lifted everybody's spirits," she said. 
Mashia's idea even had a ripple effect on Recinos. "It really got me motivated to try to see if I could do more as well. And so I was able to get other people to donate as well," she said. 
Helping the community is not out of the ordinary for Mashia, according to fellow volunteer Willie McCray. His friend said Mashia started the Bronx Sole to help the Bronx community get active long before COVID-19 struck the community. 
Despite Mashia's years-long commitment to help the Bronx, he never seeks attention. When people wanted to take pictures of the volunteers delivering pizzas, he opted to take the picture, rather than be in it. "That's one of the things that stands out. He makes it about the hospitals," McCray said. 
The Bronx Sole is a running and walking group that coordinates biweekly exercises that stop at historical sites. 
As a former competitive runner, Maisha found himself traveling to every borough to exercise on his own. At first, he wanted to start a running group in the Bronx but soon found out the Bronx was repeatedly ranked the unhealthiest county in New York. He then changed his approach and added a run-walk group, too, so nonrunners felt welcome.
Founded in September of 2016, Mashia used Instagram to get the organization up and running. As the manager of the Bronx Sole's Instagram account, he followed back accounts and commented on peoples' posts. This virtual engagement was key to increasing membership. "They'll end up showing up and they'll be like, 'well, you guys always comment on my pictures. And you guys make me feel like you guys are watching my life. So I feel like I should come out,'" he said. 
The biweekly runs have come to a halt due to COVID-19, but Mashia keeps busy with volunteering. He plans on delivering pizzas to a few hospitals in other boroughs and starting over again in the Bronx. 
Although Mashia is originally from Portland, Oregon, he had an instant affinity to the Bronx. "When I moved to the Bronx, I just felt connected to the Bronx, like, I felt like I was where I've always wanted to be," he said.